5MP video over WiFi
with our new Funk hybrid sets

Now our 5MP sets with WiFi cubes are available. With this unique combination, cameras can be easily combined with the cubes to allow them to communicate with a cube on the recording device over short and long periods.

So you can cover even large houses or halls!

And the best thing about it? The set can be expanded with additional WiFi cubes, switches and cameras!
Efficient like never before
with up to 6 cameras on a WiFi cube

With the help of the enclosed POE switches, you can easily connect up to 6 cameras to a Cube. With a CAT7 network cable, the cameras can be placed up to 100m from the WiFi cube / switch.

This means that an even larger area can be covered than with all other video surveillance sets.
Versatile, simple & fast
through Funk

The three WiFi cubes, the cameras, the switches and the HDDVR recording device can be set up in almost an infinite number of combinations. So we offer you incredible flexibility with a simple structure.
Your own devices such as your router or modem can also be integrated into the system to expand it!

Several BERGHOCH POE switches can be used to distribute the cameras to the WiFi cubes.

(From 8 cameras a second switch is included in the set)
Additional WiFi cubes can also be connected to the system.

With up to 5 cubes, your Funk hybrid system becomes even more flexible! This is particularly useful for large areas that need to be covered.

Up to 6 cameras can be used per WiFi cube or switch. Will this be with
The New Human Recognition
integrated in our 5MP cameras

Leaves or animals constantly trigger your surveillance system?

Not with our new intelligent human recognition!

Because the old technology of video surveillance uses every single pixel change in the video to trigger an alarm and thus leads to false alarms.

Thanks to deep learning and intelligent AI, our 5MP cameras can now distinguish people from animals and objects. This way your system no longer trips unnecessarily and saves even more hard disk space!
Audio warning through your cameras
with human recognition on the 5MP outdoor camera

If a person is recognized by one of your cameras, all 5MP outdoor cameras can display a warning message.

With the new built-in speakers in our 5MP outdoor cameras, an audio warning can be selected and played preventively. These include, for example:

"Private parking - only for tenants!"
"Attention video surveillance - you are entering a monitored area!"
"Welcome."
"Do Not Enter!"
"No entry - the security service has been informed!"
"Private property - unauthorized entry leads to an advertisement!"
*Barking*
*Siren*
See and hear
via the BERGHOCH alarm system APP

Now you can directly confront a recognized person. With the new 2-way communication via the APP.

The integrated microphone (external cameras) enables you to hear and see the person directly from the perspective of the camera.
Funktions of the outdoor and dome cameras
colour
Natural representation of colors for a clear picture
WDR
Wide dynamic range for a lot of depth and details in the picture
H.265 +
H.265 + compression for a sharp image on small files
AI
Artificial intelligence for rapid detection of people
Night vision
30 meters of night vision thanks to infrared technology
Protection
Vandalism protection through a stable design
IP66
Waterproof and dustproof for outdoor use
5x zoom
Exact alignment of the surveillance camera

Each BERGHOCH 5 megapixel surveillance camera is equipped with an electrical zoom lens. So you can easily zoom into the image via the HDDVR, the Windows software or the APP - and that up to 5-subjects Enlargement!
5MP Video Surveillance
Latest HD DVR Surveillance System

The new BERGHOCH HD DVR offers you a high-resolution video resolution in 5 megapixels.

Connect the BERGHOCH HD DVR to your computer monitor or TV via HDMI or VGA.
Plug and Play
Easy Installation and ready to Use in just a few Steps

Simply connect all components together and connect them to your monitor / TV using an HDMI / VGA cable.

No specialist knowledge is required for installation and illustrated instructions explain everything to you.

Should you still have any questions, our technicians will be happy to assist you.
Notification on Movement
Notification via App when there is Movement

Simply activate the alarm notification when moving in the app on your smartphone.

Use the surveillance cameras as security guards, who will inform you immediately when they move.

You will receive a message in the event of an alarm and can immediately connect to your surveillance cameras to check the situation.
CLOUD SERVER in Germany
Fast connection establishment and German Software

With our systems you always have reliable and fast access to your surveillance cameras.

As a BERGHOCH customer, you have exclusive access to our unique cloud server in Germany, which enables you to quickly connect the HD DVR and our software to view your surveillance cameras.

Other providers operate these cloud servers abroad, for example in Asia. This leads to slow or no connection establishment: old servers, low capacities, no maintenance, no software updates.
Connect as easy as NEVER
You do not need any further settings in your router and you do not need a DynDNS server. The cloud also works with cable, DSL and LTE internet connection.

Simply scan the QR code from the BERGHOCH HD DVR or enter the ID number and you can connect to your surveillance cameras via the Internet.

You can use the smartphone app and PC software to view the live images and recordings from your local hard drive.
High Memory for your Records
Pre-installed 2000 GB Hard Drive for up to 30 Days of recording

The 2000 GB hard drive with the innovative H.265 compression is optimized for 24-hour video surveillance recording.

The recording takes place in real time on all 16 x HD 5MP channels and can be played back at any time.

The recording circuit always ensures automatic and continuous video recording. The oldest video recordings are replaced by the newest ones in order to maintain the circulation of the video recording.
All your files LOCAL and SAFE!
Decide whether you want a 24 hour recording, a scheduled recording, a manual recording, or a motion recording.

BERGHOCH offers you all 16 channels in 5 megapixel quality when recording.
User Interface
Recording Device with the latest Design

The BERGHOCH HD DVR recording device has a new user-friendly interface (software) to quickly and easily operate your "command center". Simplified symbols, perfect German language and terms make use easier than ever.
iOS & Android App
Free Download of our "BERGHOCH Cloud" App

Your BERGHOCH monitoring system can be easily monitored via the app.

Just search for "BERGHOCH Cloud" in the stores and download it for free.
HD DVR with 16 Channels
Recording Device - expandable up to 16 Cameras

BERGHOCH recently offers you an HD DVR recording device with up to 16 recording channels.
Simple Data Backup
Quick and Easy External Data Backup

The HD DVR offers you an easy way to backup your videos externally via USB. Simply connect a USB stick or an external hard drive to back up special videos or the entire data if necessary.

Your video recordings are always stored locally on the HD DVR's hard drive. No video data is stored on the cloud server, you have control over your videos yourself.
Digital Video Archive
Search your video recordings quickly and easily

In contrast to other systems, which show you the recordings in colorful timelines without precise information, BERGHOCH offers all types of recordings sorted in a list with exact time information.

Search your video recordings by date, time and event and also via app. The videos can be saved externally by fast forwarding and rewinding and with immediate export Funktion.
HD DVR Display Options
Different Display Variants available

In the HD DVR, choose between single video, 4-view, 8-view or 16-view with a large video - including digital zoom Funktion. Alternatively, we offer automatic circuit playback of individual video channels.
Weatherproof Surveillance Camera
Weatherproof (IP66) and Rustproof Digital Surveillance Cameras

The new digital technology for professional video surveillance offers you detailed videos in real color.

All BERGHOCH 5 megapixel surveillance cameras (resolution, chip) are precisely matched to the HD DVR in order to provide you with the best possible video image.
Perfect Videos Day and Night
Perfect Image Quality Thanks to 5 Megapixels

Every BERGHOCH 5 megapixel surveillance camera has intelligent software that delivers you perfect videos day and night.

In combination with the BERGHOCH HD DVR, each surveillance camera can be individually adapted to the needs of the environment.
Motion detection
Integrated Funktion for individual motion detection

With the BERGHOCH HD DVR you can set an individual alarm range. When a person moves in the selected area, you will receive an alarm notification via the app on your smartphone.

You can also decide whether you want to start a video recording only when there are movements, whether you want to record permanently for 24 hours or in individually defined periods.
Email + Photo when Motion is reported
You will automatically receive an Email when you move with a Photo

When you activate the email notification, the BERGHOCH HD DVR sends you a picture of the registered movement.

So our recorder can reach you at any time.
IP instead of BNC System
Clean, uncomplicated and stable cable laying

Our IP-based systems offer you an uncomplicated installation compared to the classic analog BNC systems. As in the example shown above, with our systems you avoid cable clutter directly on the recording device, which has to be pulled through the whole house.

Our IP video surveillance works with a clean installation over POE network switches. This means that the POE network switch for connecting the individual surveillance cameras can be moved in the house - like the branch of a tree with branches.
Video Distributor
Easy Installation from Room to Room

The digital surveillance cameras can be installed more easily and with less effort. The minimal installation effort gives you an uncomplicated installation of the video surveillance from room to room. You need to go from the HD DVR to the first video distributor (POE network switch) with just one main network cable and you can connect further video distributors (POE network switch) with each other.

From the video distributor (POE network switch) Then move the connections to each individual surveillance camera: HD DVR video distributor (POE network switch) in room 1 to room 2 to room 3 etc., and from each video distributor (POE network switch) to every single surveillance camera.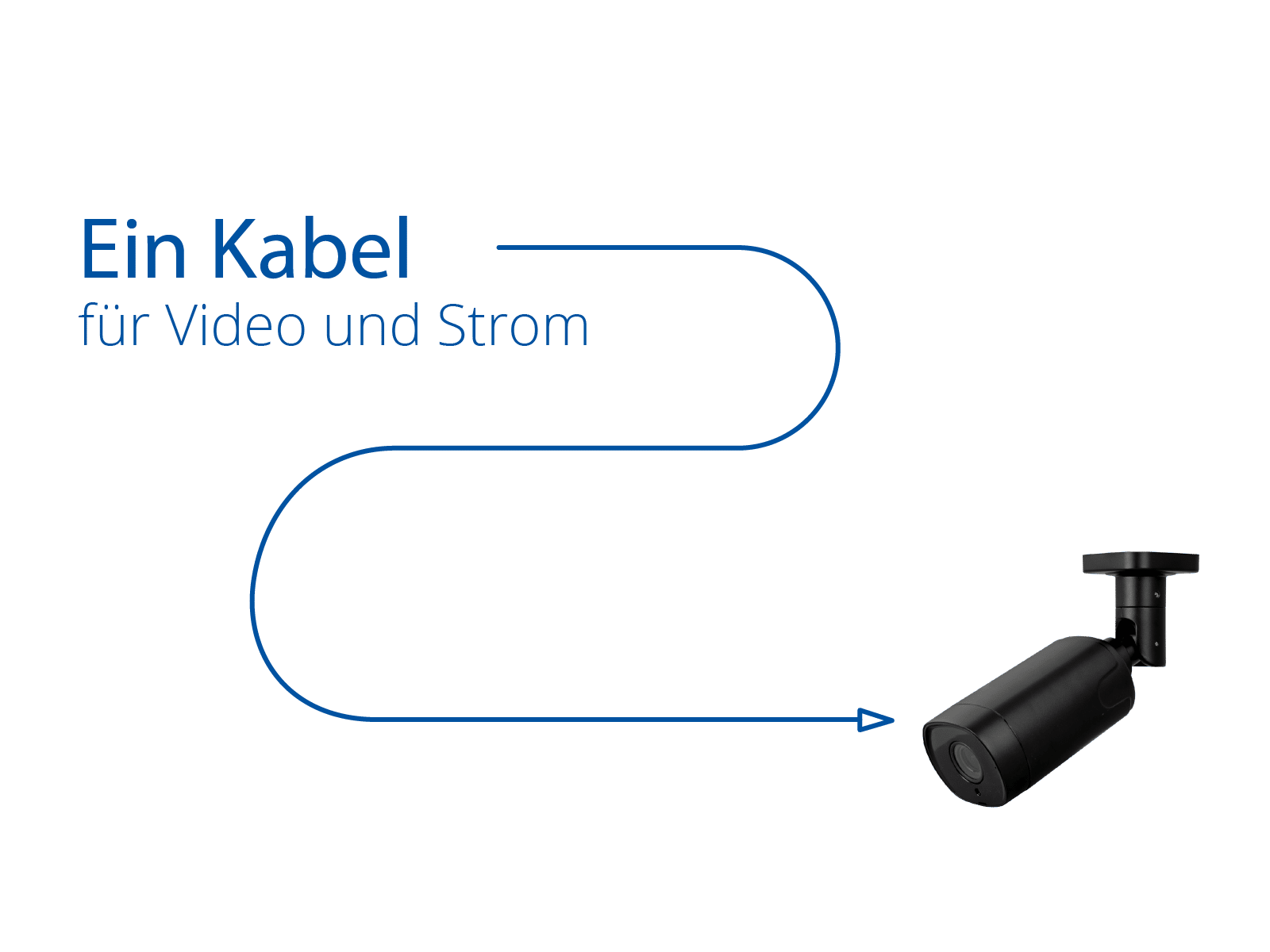 CAT5 LAN Cable
Only one Cable for Video Signal and Power Transmission

BERGHOCH offers you high-quality network cables (CAT5) that are suitable for long distances - and that without loss of picture.

Our cables are specially designed for Super HD video surveillance to ensure video quality without noise over long distances.

The Super HD network cables also supply the cameras with power directly. It is therefore not necessary to lay another separate power cable. We therefore offer you a convenient solution for the cable connection.